Grains of Wisdom: From a Dying Child
She was struck by acute leukemia. With incomparable silence and endurance, with an expression of great sweetness shining constantly from her pale little face, she faced all the aggressive therapies she was given. The more endurance she showed, the more her parents broke down, as they gradually lost their last shreds of faith together with their hopes. They were not people of faith anyway, but there was something within them. They had sent Myrto to a good school. She had a teacher who was very fond of her. Every night before she went to sleep, she would cross herself and say, 'Cross of Christ, save us by your power/ That was what the teacher had told her.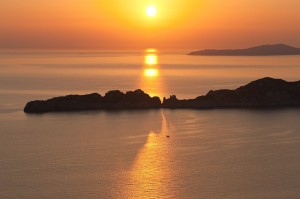 'Why do you cross yourself?' her mother asked.
'So that Christ will give me strength,' she replied. 'That's what Ms. Helen at school told us.'
'Wouldn't it be better to ask Him to make you well?'
'It's not necessary, since He gives me strength and joy.'
Her parents did not insist. They did not understand much, in any case. But as her illness progressed, they lashed out at God. Even so, they could not lash out at their child, who continued to cross herself and say her prayers.
Myrto died at the age of eight, asking her mother to say the Lord's Prayer to her because she could no longer say it herself. She put down the doll she was holding, crossed her arms and asked for the prayer. Her mother could not deny her wish. She said the prayer, and as she said it she wept. She abandoned the logic of arguments and proofs, of narrow-mindedness and thought, and began to function in her child's world. As she shed tears from her eyes, she drew faith from her heart. As she was losing Myrto, she was gaining God. Her little daughter became her spiritual mother. She remembered her words. She did not have her child alive in her arms, but she did have strength, resilience and joy.
~ Excerpt from 'When God is Not There'  in the St. John Chrysostomos Monastery Newsletter