Archbishop Andrei on the Strength of Peace
Holy Church shows us that there was something in the martyrdom of the first Christians
which supplied them with that strength in which appeared an unearthly force, which is this same godly talent, the gift of God.
This was a peace of soul which covered all suffering, covered all earthly sorrows, which was completely above everything.
Here is the state of spiritual strength which is presented to us today for our edification. We must follow the Lord. But how do
we start on this way? Today's Gospel shows us the beginning, the first steps which a Christian must make in order to walk. If
you remember, the Gospel said: "And as ye would that men should do to you, do ye also to them likewise. If ye love them
which love you, what thank have ye?" (Lk. 6:31-32). And further, "If ye lend to them of whom ye hope to receive, what thank
have ye? …But love ye your enemies, and do good [to those who hate you], and lend, hoping for nothing again; and your
reward shall be great, and ye shall be the children of the Highest" (Lk. 6:34-35).
"Love ye your enemies." This is the first step which today's Gospel reading offers us, so that we may receive that strength
which the Apostle Paul also received in a vision of the third heaven, as did all the martyrs. If we will fulfil what the Holy
Church gives us in the words of the Gospel, then let us only start to do so; let us step on this new way. And we will receive that
revelation which will help us in those terrible moments when grief invades our soul, when sorrows surround us. The grief and
sorrows will go away. Yes, they will leave us, because in that moment these points of grace, this godly light of Christ, will be
revealed to us and will give us strength to bear the burdens of our earthly life, so that we may be comforted in Eternal Life
with Christ.
– The One Thing Needful Blog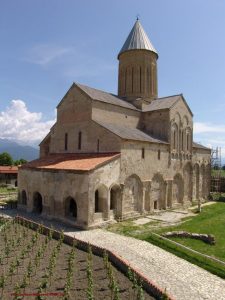 **We are pleased to include writings from modern American Monasteries from time to time as well as our traditional Elders**